For Erin Corder-Brown and Emily Barbour, sisters, Spokane locals and co-founders of the vintage and reworked clothing brand Do It With Soul, business is a family affair. 
While Do It With Soul officially started in 2015 by the two sisters and Corder-Brown's husband, a passion for creativity and a love for fashion have run in the family ever since the sisters were young. With a business-owning artist for a mother, who taught both of her daughters how to sew, it was written in the stars, as one might say, for both of the sisters to end up in the business of fashion. 
"Fashion runs through our veins," Barbour said.
With a degree in design, apparel and merchandising on Corder-Brown's end and a marketing degree for Barbour, the sisters compliment each other well, which is reflected in their clothing.
Selling not only curated vintage pieces but reworked items from the past, including custom clothing, Corder-Brown likes to describe what Do It With Soul does as "new, vintage, and altered."
Focused on keeping inventory small and the production of the clothing sustainable, the brand represents a passion and creative expression that can be seen directly through its name. 
"It just encompasses a movement, you know, we have our passions in life," Corder-Brown said. "I tell my kids 'Whatever you do, be your best you.' So even before Do It With Soul came to my brain in the middle of the night, just talking, it is just more of a movement. Usually you are wearing clothing every day. So why not wear your clothing with soul or passion?"
When browsing the different collections at Chosen Vintage, the eclectic vintage store located in downtown Spokane that has carried Do It With Soul's clothing since its foundation in 2015, one might not understand the impact this business has had on its owners. Being a women-owned business, the sisters have learned how to communicate their messages through their clothing.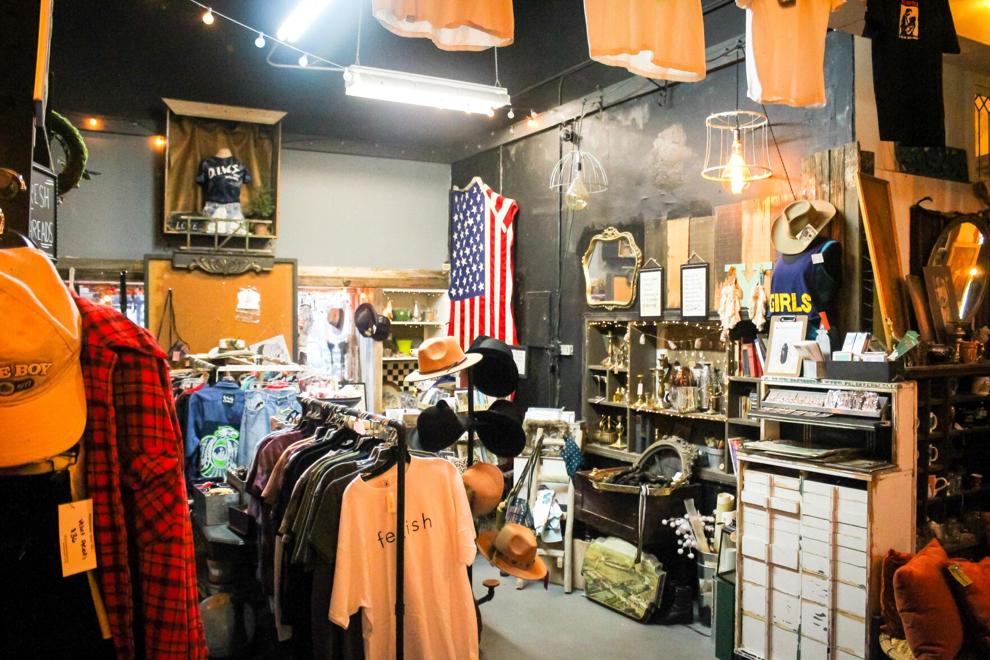 "I think the expectation of females that can do it all is still really there," Barbour said. "The movement of acknowledging that females can create life and then also live life so passionately – it is full circle. And I think that being able to do that at any level, even if you're making jewelry for Etsy on the side or if you're the CEO of a huge company, you are going to run into people who don't think you can do something. And it's just so nice to be like, actually, we can."
As for Do It With Soul's impact within the Spokane community, one does not have to search very hard to find a voice that will tell them of its support and love for the city it got its start in. With local rappers, performing artists and even painters wearing and supporting the brand, it is clear to see that Do It With Soul is not simply a staple in the creative communities of Spokane, but in the larger community as a whole. 
Motherhood is another area of life that has had an undeniable influence on the work both Corder-Brown and Barbour do. Now that her children are growing in age, Corder-Brown loves to get their input in her work, and has even adopted one of her daughter's drawings as a recurring motif in the brand's designs.
Making decisions as mothers has also directly impacted the sisters when making decisions around their brand. Not only do the sisters see Spokane as a city with a rapidly expanding fashion scene, but as the place where both women have chosen to raise their families. 
"I just knew I wanted to raise my family here," Corder-Brown said. "So I'm going [to] bring my passion and build it here with this community that we have."
While the COVID-19 pandemic forced Do It With Soul to change in unexpected ways with the loss of the brands studio formerly located in downtown Spokane, both Corder-Brown and Barbour seem undeterred by the thought of a challenge.
With the win of officially trademarking the brand's name when looking toward the future, it is hard not to feel the excitement the two sisters undoubtedly share with one another over their creation. They continue to expand the spaces in which they sell their clothing and refine the message they want to communicate to not only the local Spokane community, but with the rest of the world.
For Barbour, the future of the brand is one that continues to encourage others.
The message of Do it With Soul is simple for the sisters: create with passion, move with kindness and support with love. Everything Corder-Brown and Barbour do, they do it with soul.
"Continue to build that fashion confidence at all levels," Barbour said. "In any way, shape or form. And to positively impact people."