November is National Aviation History Month, and what better way to celebrate it than to visit Spokane's very own aviation museum?
Under the bright fluorescent lights of the Historic Flight Foundation's (HFF) hangar, located at 829 E. Rutter Ave., sit 22 gleaming world-class aircrafts. By the looks of them, you would not know that each of these planes was produced between 1927 and 1957.
The museum prides itself in offering restored and fully operational aircraft from what John Sessions, the head of HFF, calls the "Golden Age of Flight."
"It's one of the better collections of air worthy vintage airplanes in the world," Sessions said. "Because we actually fly these, they have to be kept up to a level of airworthiness."
Sessions originally founded the museum in 2003 in the Seattle area. However, as his collection grew, he began searching for a new location to house his fleet.
In late 2019, he decided on the museum's current location, Felts Field, because of its unique history. According to the National Parks Service, Felts Field was established in 1926 and was the first airport in the Inland Northwest. It also acted as the main commercial and military airport for the region through the 1940s and was the location for the region's first National Guard Air Unit.
Sessions, who was raised in Spokane, has held a deep appreciation for history at a very young age. Both of his parents served in World War II, his mother as a nurse and his father as a paratrooper who fought in the invasion of Normandy on D-Day.
"We were raised with history as an important element of what we talked about around the house," Sessions said. "Particularly [the] history of the World War II period and the years leading up to it."
Sessions' love for aviation came later in his life when he was about 29 years old, deciding to try flying after a colleague recommended it to him. He quickly became obsessed, flying over 2,000 hours soon after becoming licensed. What ignited, and continues to ignite, his passion for flying is the sereneness and liberation he feels when up in the air.
Sessions decided to combine his love for history and aviation by opening HFF. He wanted to establish a place where people with varying background of aviation could gather and experience flying through the years.
His love for history pushed him to only display aircrafts that were produced from 1927 to 1957. He believes that the innovative and everchanging dynamic of this time period is reflected through its aircraft, which makes them even more special.  
"There's all kinds of stimulation here just in considering the history of the airplanes, they each have a role in a sequence of events and are important to the world," Sessions said. "They each also have a group of personalities associated with them."
Sessions' goal is to simultaneously educate the public about the aviation history of this time and give back to the community. The museum is a nonprofit Washington Corporation that is set up as a public charity to accepts donations. To serve as an outlet of education and sharing, the museum holds classes, workshops and lectures for aviation enthusiasts of all ages to learn about flight and different Stem fields.
What makes HFF special, according to Leland Vincent, a volunteer tour guide for and former Air Force aircraft mechanic, is not just its commitment to education and service. It is also HFF's ability to utilize the best refurbishment resources around to restore the planes to original condition. Unlike other museums with displays that are static, each of the planes in HFF's collection are in working order.
"You go to Boeing Field's Museum of Flight and it's cool, but [the planes are] dead," Vincent said. "Here, instead of just being a museum piece, you could see the planes go up in the air."
He also believes that what makes the museum unique is its dedication to fully immerse the general public in all things aviation. HFF seeks for its visitors to not just view the aircrafts, but to truly experience all the different aspects of aviation.
To accomplish this, the museum has employed a few techniques to make the experience more immersive, less stuffy and more entertaining. First, the displays within the museum do not have any barriers, with the intention of allowing guests to get as close (without touching) to the planes as possible. Furthermore, for the true pilot experience, visitors can climb into the cockpits of different planes located on the tarmac portion of the museum to feel like a real pilot.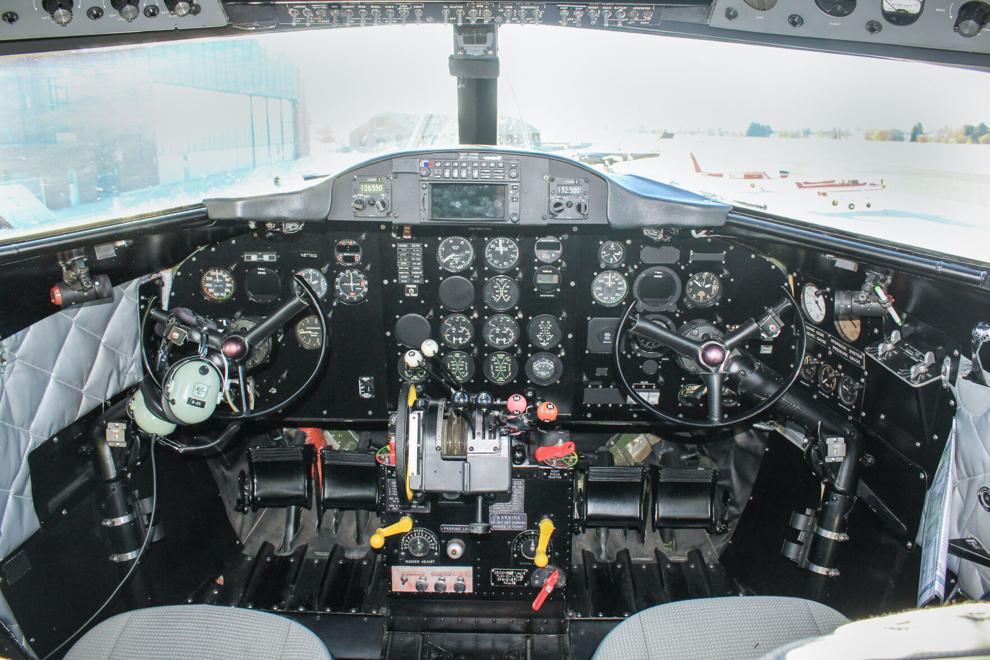 Lastly, several volunteers, many of whom are military veterans, walk the floor of the museum to share aviation knowledge with the guests. Vincent's favorite aspect of volunteering at the museum is meeting the people who come to visit and hearing their stories.
"Veterans from different wars come in every now and then they're just loaded with stories," Vincent said. "We listen as much as we talk- maybe even a little bit more listening."
While the museum serves a diverse age demographic, they are eager to expand their younger fanbase because, as Sessions believes, aviation and aviation history will become increasingly important for younger generations in the years to come.
"Going forward aviation careers and related fields like space are going to be fertile fields in the years ahead," Sessions said. "Aviation as a whole is going to be an exciting growth industry."
In the same respect, Sessions says that the museum is ready to grow and is actively acquiring new aircraft to refurbish and display. He hopes to cultivate the collection so that it sets a solid legacy that outlives himself and anyone else at foundation.
Historic Flight Foundation is open from 10 a.m. to 4 p.m., Tuesday through Sunday. For more information about the museum, visit its website at historicflight.org.