The Garland Business District is an eclectic microcosm of Spokane: vintage and modern, stylish and unique, with a love for all things local.
Garland hasn't seen the onset of gentrification that some of Spokane's other chic strips have. It's just as real and gritty as the Spokane we know and love. And for the foreseeable future, it plans on staying that way.
The businesses on Garland advertise themselves first and foremost as local. Many of them have been there for decades. Between the dive bars and the '50s-style diners, (that actually date back to the '50s,) enough history lines this street for a thousand stories. But the only way to really feel the Garland District is to visit. It is to walk along the cracked sidewalks and enjoy the murals, hear the records at the record shops and taste the food and drinks at the dozens of restaurants and taverns. 
As for places to eat, it would be hard not to find a restaurant to your liking. If you're feeling nostalgic, Ferguson's Cafe has been a popular North Spokane breakfast dive since it opened in 1930. Few places can claim such a rich history, and if you're looking for a strong black coffee with your eggs, nowhere does it better. 
Right next door is Mary Lou's Milk Bottle, an old-timey diner with award-winning milkshakes, burgers and sandwiches, with a vintage design and vintage prices to match. If you're looking to go back in time to better days, look no further. This 38-foot-tall milk bottle-shaped building is the place to be. 
If you're more in the mood for drinks and a night out on the town, the bars and taverns on Garland should be more than enough. Between the Brown Derby Tavern, Garland Drinkery and Garland Brew Werks, local craft beer and good times abound. While only GU students 21 and over are welcome at Brown Derby, one of the oldest bars in Spokane, Garland Brew Werks, has also made a name for itself in craft soda and welcomes those of all ages.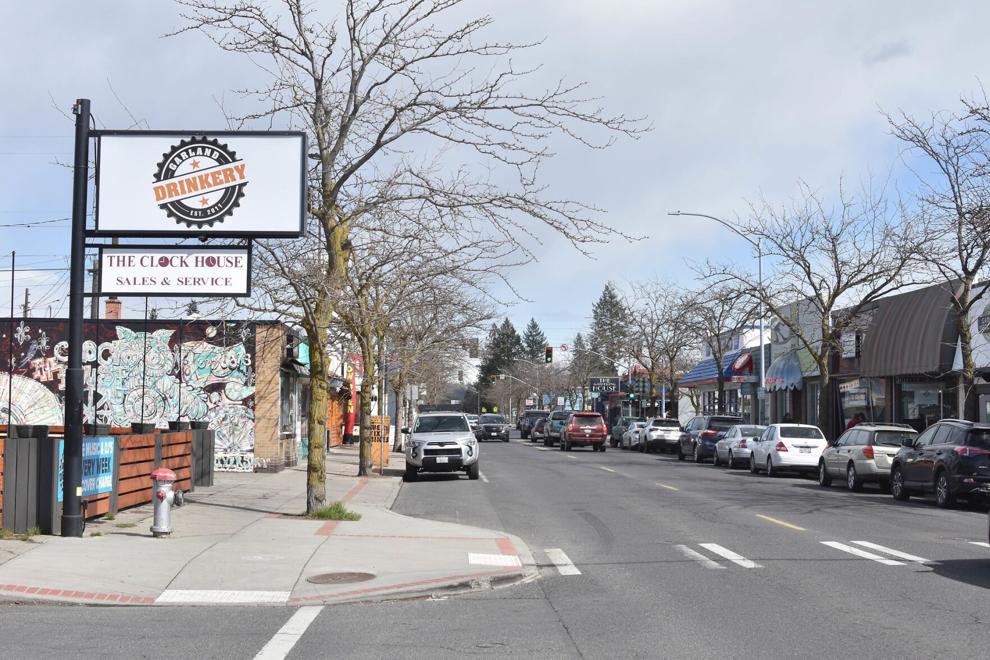 For those looking to plan a date night, North Hill on Garland is one of the most chic and well reviewed restaurants in town. Nestled in the rustic brick of the old North Hill Masonic Temple, the ambiance can't be beat. The food, wine and cocktails appealing as well.
If you've had your fill of food on Garland, there's plenty more to do, see and explore. Why not check out Giant Nerd Books on the District's East end? In a town full of good reads, Giant Nerd stands apart. Piled floor to ceiling with new and used titles, it can be easy to get lost in the stacks; but the other curios and collectibles featured in the shop should provide ample distraction. 
There are plenty of other shops on Garland with that cluttered, homey feel. Time Bomb Collectibles and Over the Moon Relics host vintage toys, collectibles and other goodies. Book Traders has sold gently used books on Garland for over 35 years, and Simple Machine Bike Repair next door is the place to go if chains and gears are more what turns your pages.  
Garland also plays host to a number of specialty shops. If you're looking to get out of town and try your hand at fly-fishing, for instance, Swede's Fly Shop is the only fly fishing shop within Spokane's city limits. Founded 35 years ago, owner Allen Peterson offers fly-tying classes, casting classes and guide services for anglers of all abilities, including a fly fishing clinic for beginning anglers on the first Saturday of every month.
"I've been fly fishing for near-on 70 years," Peterson said. "If I've got any advice, it's this: fly fishing is not about fish — it's about people." 
In a neighborhood known for its murals and artistic sensibilities, Spokane Art School is right at home. Offering classes for artists of all skill levels as well as a gallery for local artists to display their work, Spokane Art School is an important part of the local artistic community for aspiring and veteran artists alike.
In proper Spokane fashion, vintage and thrift stores abound on Garland. DYD, standing for everything from "Drop Yer Drawers'' to "Drum Yer Drum," is a vintage shop that refuses to lose its eclectic, grungy charm. The only thing you can't find here is a bad deal. At Zipperz, an upscale consignment shop, you can find everything from ball gowns to vintage Zag gear.
If you're searching for something a little fresher than a decades-old leather jacket, Garland Mercantile is passionate about local products and farm fresh produce. Selling goods from across the Northwest, with freshness the foremost priority, shopping at Garland Mercantile is like visiting your local farmer's market.
"Come in and try a few samples, find a unique gift, pick up some Green Bluff produce and say hello," the Garland Mercantile website reads.
Garland is also a great place to find some fresh sounds as well as fresh food. Groove Merchants record shop specializes in used vinyl records, and Go! Records and Music Equipment will make sure you and everyone else on your block hears your new tunes loud and clear. 
There's more than just recorded music on Garland. Mark's Guitars, founded in 2002 by Mark Harris, is the place to go for anything with six strings (give or take one or two). Guitars hang from the ceiling, the floor is piled high with amplifiers and cases of pedals line the walls. If you need to get a guitar repaired, or want to build one of your own, Cole Music Co. down the street specializes in exactly that.
To top it all off is Garland's most recognizable landmark, the Historic Garland Theater, on the corner of Garland Avenue Street and Monroe Street. Opened in 1945, the Garland was the premier movie house of the West in its day.
"There is nothing like it on the Pacific coast, even in Los Angeles; it is 20 years ahead of Spokane," said the Spokane Sentinel at the time.
Now showing both classic and modern movies at unbeatable prices, the Garland is a must-see for GU students and visitors alike looking to experience a Spokane landmark.