From ceramics and acrylic to 3D paintings and an ofrenda, Friday night called on Gonzaga University art students to wear their hearts on their sleeves at the debut of "A Piece of Me Senior Art Exhibition."
For a couple of the artists, this show, hosted at the Gonzaga University Urban Arts Center, was the first time they have seen their artwork displayed in a professional gallery. 
"Seeing everything on a wall that has actual lighting and there's not thumbtacks around it and feeling this in a more professional sense, it totally changes how we view it," said Hayley Nigrelle, a senior contributor to the exhibit. 
Nigrelle said that hearing critiques and other interpretations of her art beyond the circle of students and professors she has been working with for the past year has helped her understand the impact her art has on others. 
Throughout the show, artists tackle a range of life experiences that are the motivators of each piece. 
On the right side of the GUUAC, Nigrelle's art hangs as it recollects personal moments in her life. 
"For my paintings this year, I use them as different forms of self portraits and kind of step away from the classic use of self portraiture," Nigrelle said. 
Nigrelle's portraits progress with her story, beginning with an abstracted painting tilted "Womb" as a recount of her birth story, leading viewers all the way to her adulthood. 
Nigrelle said another goal she had for her work was to involve her Sicilian-Italian and Guatemalan heritage while also dedicating as much as she could to the education that her dad worked for.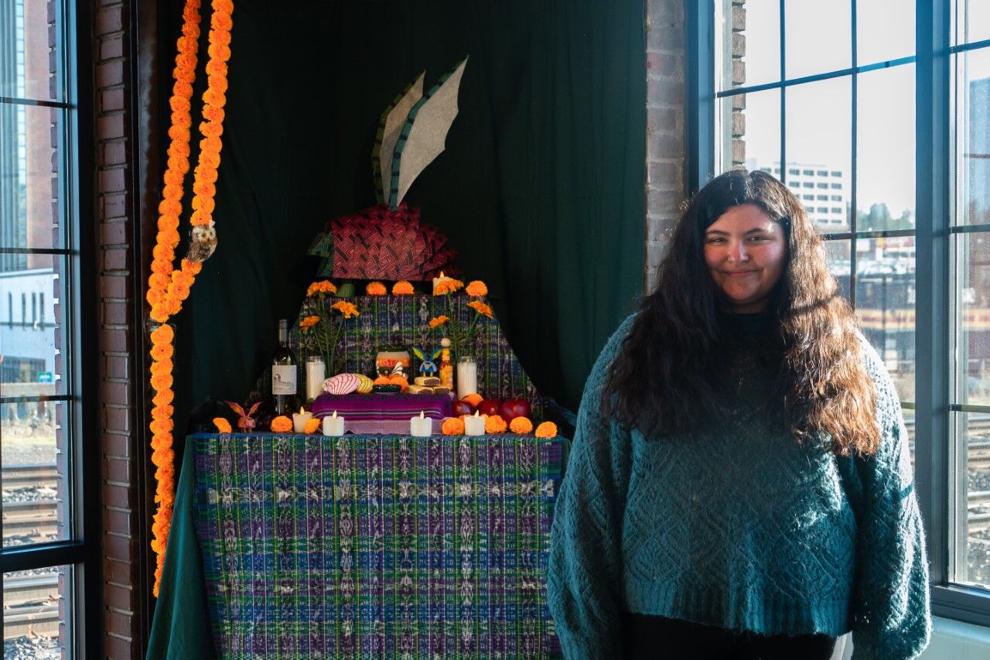 "I really wanted to see more culture in Gonzaga related spaces and that's part of the reason I did the ofrenda to honor my dad," Nigrelle said. "I've put everything that I've learned and what I've experienced into the show and have it be something that will resonate with someone."
Skylar Karman, a senior contributor to the exhibit, has found empowerment in the vulnerability that is required when putting very personal work on display for a larger, unfamiliar audience.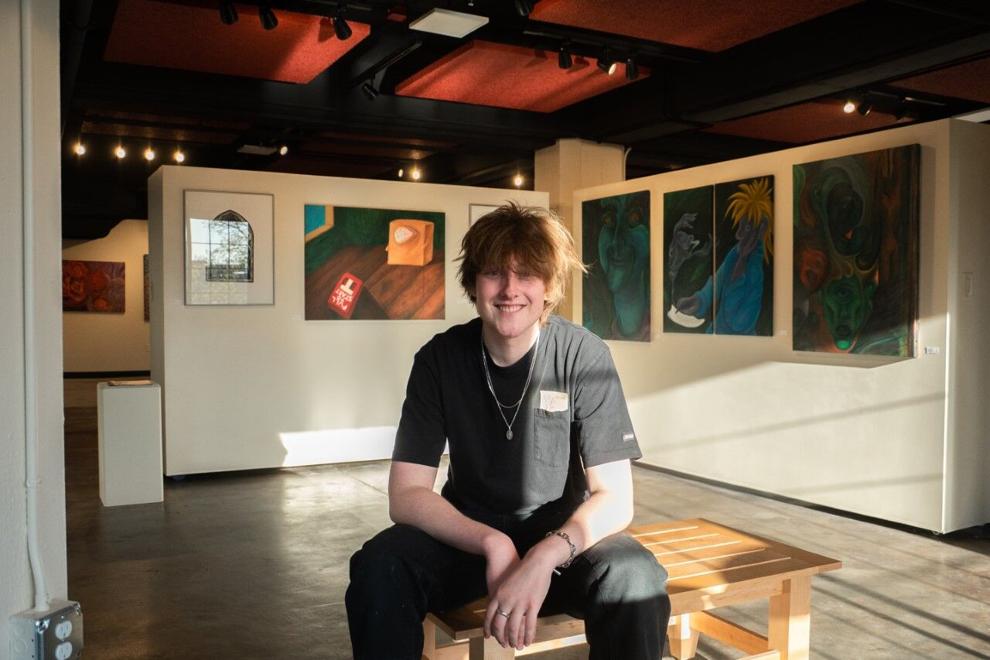 "My pieces are expressing and talking about my ADHD symptoms and my experience with mental health and neurodivergent depression," Karman said. "A lot of the problems I can't verbalize but I can try to show in an art form instead of talking about it. It's different representations of negative and positive symptoms of ADHD and depression in general."
One painting in Karman's collection was a happy accident leading him to take on a nuanced form of self portraiture. 
"I can distort my face really well and so I just took a picture of it and thought it was funny and then I just really liked it," Karman said. "I wanted to paint it and it kind of ended up being a representation of the subconscious part of you. Not to be cliche but there's a part of you that's a detriment to you and your life." 
Other artists showing collections in this exhibit are Fiona Davis, Ashley Castleman, Bri Covert, Emilie Weaver and Brigid Dennehy. 
On Friday, artists will be at the GUUAC to speak to artists about their work in the exhibit. 
"A Piece of Me Senior Art Exhibition" will be on display Fridays 4-7 p.m. and Saturdays 10-3 p.m. until May 12.