A college student might not often fit the stereotype of a knitter, but people who knit and crochet can be found across all demographics. There is actually a surprisingly robust knitting culture on Gonzaga's campus, if you know where to look.
This inspired two juniors, Nikki Snyder and Lilly LeBlanc to start a knitting and crochet club at GU last spring. This is the first year that the club is in full operation, with meetings held on Thursday evenings at 7 p.m. in College Hall room 245. The club has attracted many Zags interested in learning to knit or crochet, as well as those looking for a space to work on projects and share a hobby with friends.
Knitting and crochet club welcomes beginners and seasoned fiber artists alike.
"I've talked to a lot of people who knit but don't know anyone else who knits," LeBlanc said at a club meeting in November. "There's actually a lot of people who have this hobby but I think it's all in pockets. That's a goal of the club to bring all these people who have this interest together in one space so that we can share it."
While many of GU's knitters may have been stitching in solitude until now, LeBlanc and Snyder talked about the benefits of crafting in community.
"I think that Nikki and I have discovered is that knitting is a surprisingly social activity because it's really easy to just talk while you're working on it," LeBlanc said. "I knit nearly every day now and it's because I have people to do it with."
For people who have their projects and like working on them it can be nice to both remember how to do it and to have other people who understand what you're doing and get excited when you finish something too, LeBlanc said.
In addition to providing a social atmosphere in which to knit and crochet, Snyder and LeBlanc are available at club meetings to help fellow Zags learn the craft.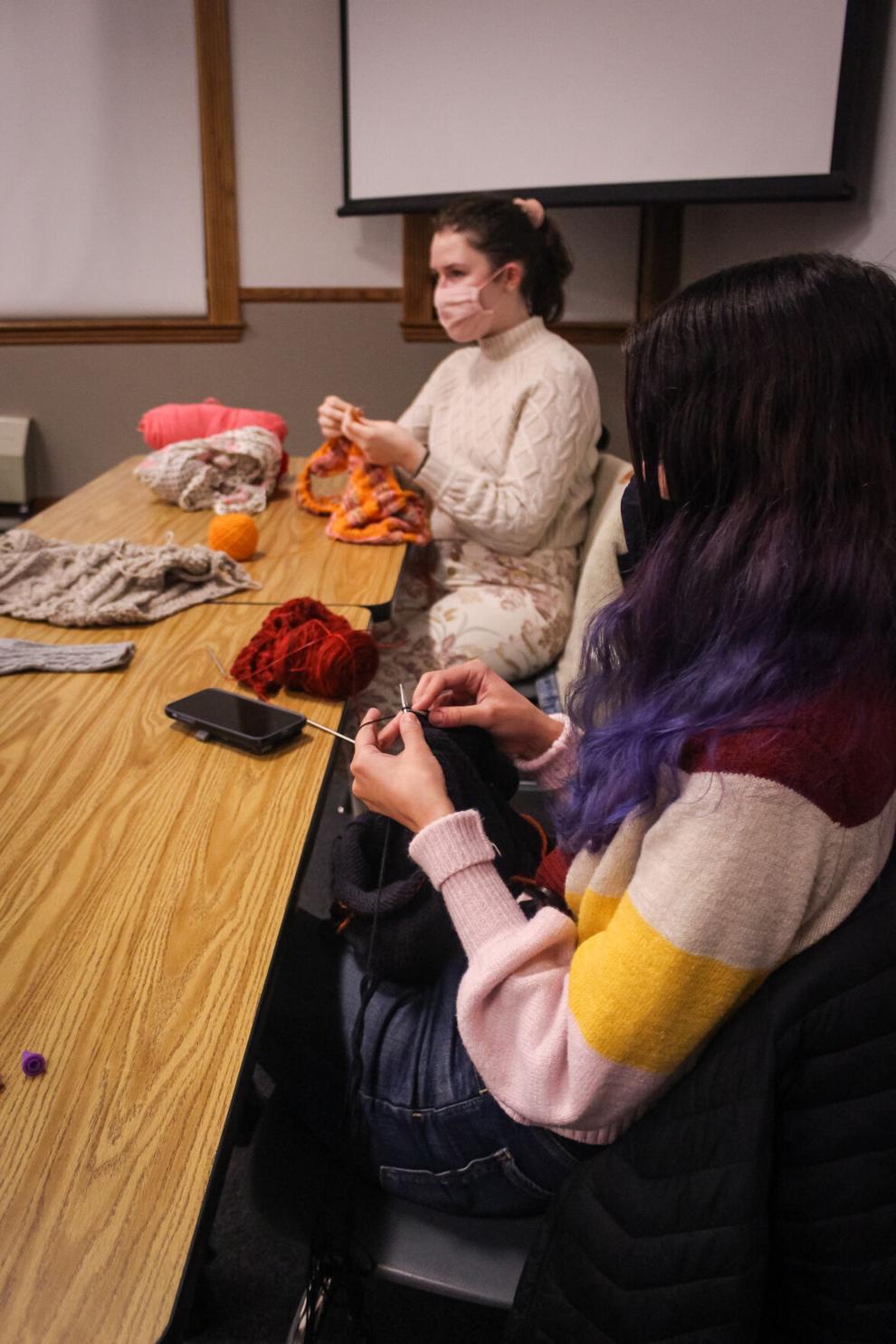 "People want to learn how to knit, but we don't want them to have to teach themselves," Snyder said.
Club members who have been consistent in their efforts to learn have seen success at knitting and crochet club.
"There have been a lot of people who make good progress by coming," LeBlanc said.
The club also has materials available for members to use, which is intended to provide an opportunity for Zags to try something new without investing in supplies.
Snyder and LeBlanc found a passion for knitting at a local business, The Hook and Needle Nook, when they took a sock knitting class together last October. The shop is owned and managed by Esther Wheeler, a retired biochemist who has found a second career in the fiber world.
The Hook and Needle Nook, located on 1508 N. Monroe St., can be of great help to anyone in Spokane looking to pick up knitting or crochet. The shop offers a wide array of classes, including a sweater knitting class and a beginning crochet class.
"I'm a teacher by trade, so part of my commitment with the shop is to pass some of this knowledge of fiber arts on to people so they can enjoy it too." Wheeler said. "Because it's been a great joy for me."
The store also has a wide variety of yarn and other supplies available for purchase, and its staff are always prepared to help customers with projects. Snyder and LeBlanc both spoke about going into the store for advice with their own projects.
"If somebody's having trouble with a project, they can come in here and find help at any time," Wheeler said.
Wheeler described coming up with the idea for her shop after connecting with the local knitting community when she moved to Spokane after finishing her career as a professor of biochemistry. Her success is evidence of the strength of the fiber community in the city.
Like in the greater Spokane area, the knitting and crochet culture is alive and well on GU's campus. With the new forum of knitting and crochet club, there has never been a better time to pick up some knitting needles or a crochet hook and to spend some time crafting with fellow Zags.