The bright golden statue of an Oscar, Christmas cards dating back to 1947, the song "White Christmas," played from an old-time radio and dozens of gold records and awards are all trademarks of the Crosby House during the winter holidays.  
Since its opening to the public in 2014, the house located on Sharp Avenue directly behind College Hall is one of the few museums devoted solely to the music and movie legend and GU alumnus Bing Crosby. The house is the same childhood home that was built by Crosby's dad and two uncles back in 1911.
At any given time, it features over 250 pieces of Crosby memorabilia and draws from an archive found in the Foley Library, which hosts over 30,000 items, including photos, records, sheet music and scrapbooks of this American icon.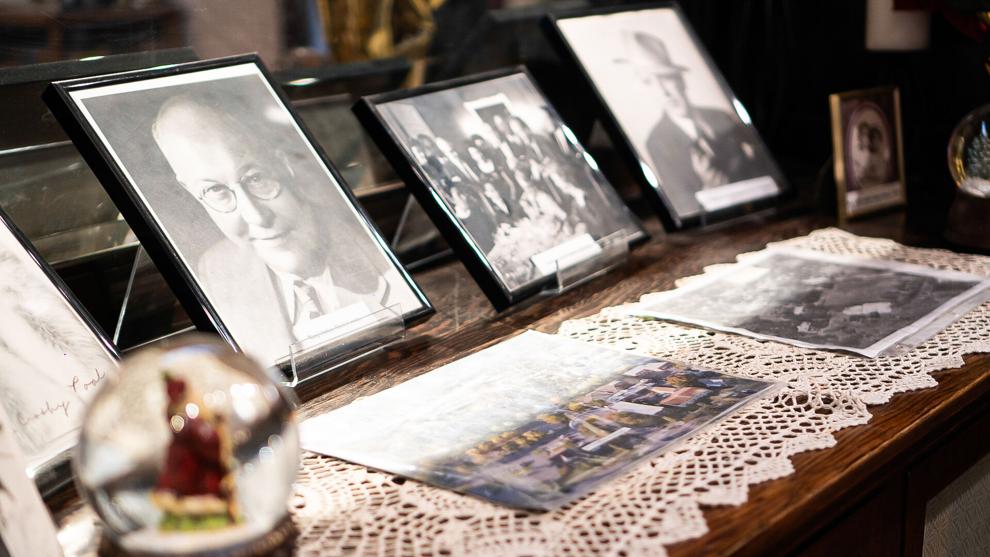 Stephanie Plowman, special collections librarian at GU, has been working with the Crosby archive since her arrival to GU in 1992. She said that the collection has only grown since working with the archives, with many donations coming from the Bing Crosby Historical Society in addition to individuals who amassed a large quantity of Crosby memorabilia.
"[Crosby] was the quintessential entertainer of the '40s, '50s and into the '60s," Plowman said. "He did all formats and he recorded more songs than any other entertainer. He did over 1,000 songs and he won more gold records than almost all the Beatles and Elvis combined. He was a radio star, he was a movie star and he won an Oscar."
Not simply focusing on his music and movie career, however, the house presents a holistic view of Crosby, highlighting his love of sports, his role in civil rights and even his experiences as a child and his time at GU.
Beginning in the dining room, two display cases in the center of the room are full of black-and-white images featuring his two marriages. A display case next to the window shows the hobbies that he liked to do, including playing golf and baseball.
Display cases in the dining room also show Crosby's role as a student and later a major donor to GU. In one case, there is a fight song that he wrote for GU and another that features an image of him digging up dirt to mark the building of the Crosby Library, which is now the Crosby Student Center.
The last display room is the parlor, which features Crosby's many awards and accolades, including his Oscar and his gold records in addition to posters of his hit movies.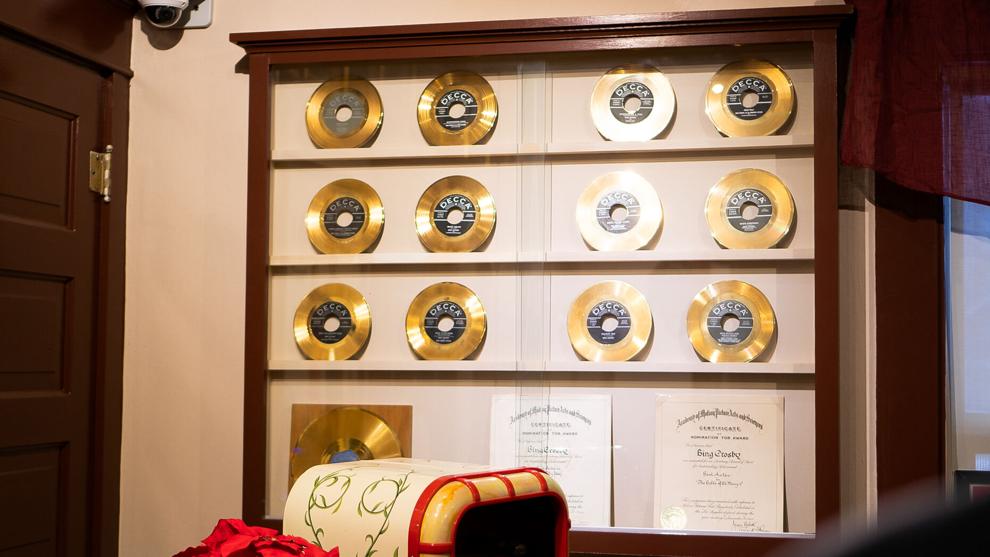 GU students Emmy Wagner and Elizabeth Swenson have worked at the Crosby House as docents since its reopening this year. They said that they like how the museum shows a variety of Crosby memorabilia, not just featuring his awards but also memorabilia outside of his movie and music careers.
"Something that I kind of noticed every time I give a tour of where things are is how much of this house is really about him and not about his entertainment history," Swenson said. "I feel like a lot of people come here, and they get to learn more about [Crosby] as a person and the cool aspects of his music history. I think that's pretty interesting."
With its many displays and the depth of its archives, it is no surprise that the Crosby House draws a lot of people through its doors. Before COVID-19, 5,000 people visited the museum annually, with five countries being represented in that number.
Plowman said that there were a lot of deep lovers of Crosby who would attend the museum and that it was always exciting to meet with those people. One elderly woman from England went on a Bing Crosby pilgrimage, taking a similar train route that he would have done in the 1950s from New York City to Spokane, Plowman said. The woman ended her trek at the Crosby House and was given a personal tour by Plowman.
Wagner and Swenson also said that there are a lot of older people who grew up listening to Crosby's music, adding that there were also people who did not know Crosby at all who visited the museum.
"It's really interesting to see a lot of people from the Spokane community who didn't know this was here until recently, and just learn a little bit more about someone who has made really great accomplishments to radio and music history, regardless of whether you like him as a person or not," Swenson said.
Still, according to Plowman, only 5% of those who visit the museum are students despite the university funding the museum and it being on campus. Plowman hopes to increase this number and make the house a more prominent location on campus.
Plowman said that there are some classes that have utilized the Crosby House and the copious amounts of archived material that GU has on Crosby.
This fall, one of the upper division classes explored the Crosby House and the archives for a class project focused on writing a story about a specific artifact. In the future, Plowman hopes to incorporate the work that Ray Rast, a professor in the history department, did with his class on learning the history of "White Christmas" by Irving Berlin, which Crosby is famous for recording.
"He has a lot of values that are important to today's students," Plowman said. "Can you imagine today's youth following all their favorite Tik Tok people and creating a scrapbook? He means something. He meant something to some back then, and I think students can learn more about him today."
While the Crosby House collection is still growing, Plowman is proud to have this museum on campus and is glad that it stays open and funded by the university.
"We're back open again and that's great," Plowman said. "I'd like to see it be doing more. But there's not much of a budget right now. [We are] just squeaking by, but I think there's great potential there in that house."
The Crosby House will be open for another two weeks on Monday, Wednesday, Friday and Saturday from 1 p.m. - 4 p.m. before it closes for the winter on Dec. 20. It will not reopen again until March 13.